Little Guest House "am Wall"
Due to the
Covid-19 pandemic
, tourist accommodation is prohibited until
December 20th, 2020
. After that date there may be further restrictions, especially on tourist accommodation and travel. This may also change at short notice. Therefore, please inform yourself if you are allowed to be accommodated for the intended purpose of your journey during the booking period mentioned above. An overview of the applicable regulations can be found
here
(in German language). We cannot take any responsibility for the up-to-dateness and completeness of the information on the linked page.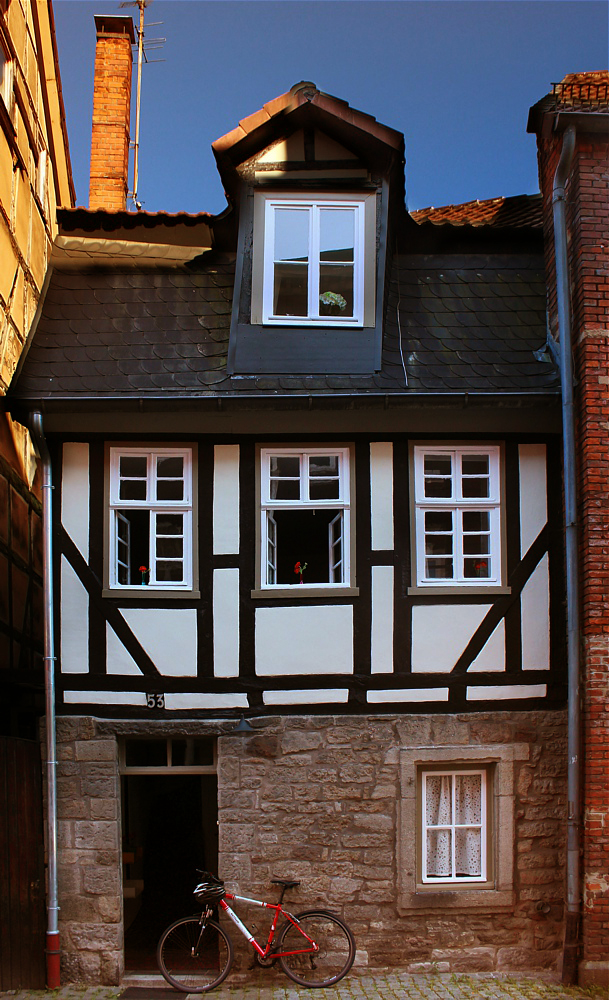 A small, individual cottage built in 1807, with the comfort of today. Newly renovated and modernized in 2013. Full of nooks and crannies, but also rustic and comfortable. 62 sqm with 3 floors. Ideal for 2-4 persons.
On the entrance floor, a hallway leads you into the kitchen and the bathroom. Two windy stairs lead you up to the cozy living room and to the bedroom above. The slightly skewed floors give the house its special charme. But in the customized bed you won't feel any skewness.
Location:
central in Hann. Münden's historic city
30 seconds to the bakery
nice cafés and various restaurants just a few minutes away
several delis and a supermarket only a few minutes away
historical town hall can be reached by foot in five minutes
the park is only a few minutes away
parking space available
free WLAN
we use certified hygienic detergents
Lockable parking space for bicycles. Non-smoker house.
Prices per night:
2 persons 60 Euro
3 persons 75 Euro
4 persons 90 Euro
(house cleaning + bedding included)
Booking:
ferienhaus-am-wall@gmx.de
Roswitha Heins: +49-151 67309226